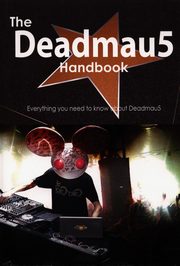 The Deadmau5 Handbook Everything You Need to Know about Deadmau5
Wersja papierowa
Wydawnictwo: Emereo Publishing
ISBN:

978-14-88502-44-6


Format:

21.0x29.7cm


Liczba stron:

336


Oprawa:

Miękka


Wydanie:

2013 r.


Język: angielski

Dostępność:

aktualnie niedostępny




Joel Thomas Zimmerman (born January 5, 1981), better known by his stage name deadmau5 (pronounced "dead mouse"), is a Canadian progressive-house music producer and performer based in Toronto. deadmau5 produces a variety of styles within the house genre and sometimes other forms of electronic dance music. His tracks have been included in compilation albums such as In Search of Sunrise 6: Ibiza, MixMag's Tech-Trance-Electro-Madness (mixed by Zimmerman), and on Armin van Buuren's A State of Trance radio show. His debut album, Get Scraped, was released in 2005, followed by others in the next few years.
As well as his own solo releases, deadmau5 has worked alongside other DJs and producers, such as Kaskade, MC Flipside, Rob Swire of Pendulum, Wolfgang Gartner, Bighorse and Steve Duda (under the alias "BSOD").
<p>
This book is your ultimate resource for Deadmau5. Here you will find the most up-to-date information, photos, and much more.
<p>
In easy to read chapters, with extensive references and links to get you to know all there is to know about Deadmau5's Early life, Career and Personal life right away. A quick look inside: deadmau5, 2010 MTV Video Music Awards, 4.4=12, 9:30 Club, A Little Oblique, Album Title Goes Here, Animal Rights (song), At Play, At Play Vol. 2, At Play Vol. 3, At Play Vol. 4, Aural Psynapse, Billy Newton-Davis, Calvin Harris, Channel 42 (song), Chiptune, Cypress Hill, DJ Hero 2, Dance/Mix Show Airplay, deadmau5 discography, Demoscene, EMI, Electro house, FIFA 13, Faxing Berlin, For Lack of a Better Name, Full Circle (deadmau5 album), Gerard Way, Get Scraped, Ghosts 'n' Stuff, Grand Theft Auto: Chinatown Wars, HR 8938 Cephei, House music, I Remember (deadmau5 song)...and more pages!

Contains selected content from the highest rated entries, typeset, printed and shipped, combining the advantages of up-to-date and in-depth knowledge with the convenience of printed books. A portion of the proceeds of each book will be donated to the Wikimedia Foundation to support their mission.